Fencing of your home, industrial or service plant require application of a product providing long-term durability, aesthetics, functionality and reduction of maintenance costs. To meet these expectations, we offer elegant, permanently protected against corrosion fences in the MOSTOSTAL system. Our system allows you for protecting: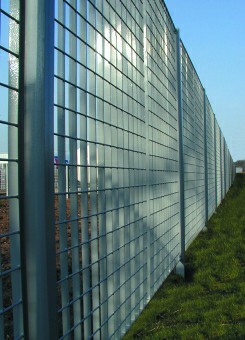 residential estates
private plots
municipal areas
plants
schools, kindergartens, playing yards
stadiums and playing fields
cellular telephony towers
recreational areas and gardens
balconies
animal yards
parking lots and gas stations
tram and bus stations
streets and shopping centres
The basic element of the system consists of spans made of light platform grates of mesh selected in order to guarantee good visibility and perfect appearance of the fence. Spans are protected against atmospheric conditions by hot galvanization acc. to DIN 50976 or power painting using one of many attractive colours. The spans are installed using a wide range of posts and brackets, ensuring high stability and maintaining optical "lightness" of the construction. Because of the modular production, installation of the fence is quick and easy. It is possible to fix the spans to posts using standards bolts in order to allow fast dismantling of the fence or using special sheer bolts, ensuring permanent connection of elements. Methods of fence installation are presented below: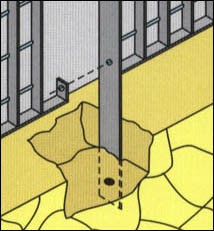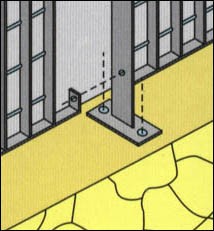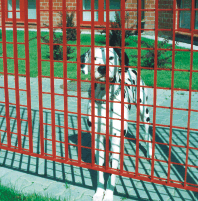 As a set, we manufacture, wickets, leaf gates or sliding gates as well as non-standard spans, posts and gates, considering any requirements concerning dimensions and mesh sizes.
The table and drawing below present detailed information on standard fences spans in the Mostostal system.
Standard span 68×127/25×2 galvanized with flat bar 25×5 finish

| No. | Height – H (mm) | Width in posts axes – L (mm) | Weight (kg/pc) | Post (mm) | Weight (kg/pc) |
| --- | --- | --- | --- | --- | --- |
| 1 | 1000 | 2000 | 18,98 | 60x8x1300 | 5,30 |
| 2 | 1200 | 2000 | 21,90 | 60x8x1500 | 6,12 |
| 3 | 1500 | 2000 | 26,25 | 60x8x1800 | 7,34 |
| 4 | 1800 | 2000 | 30,61 | 60x8x2100 | 8,56 |
| 5 | 2000 | 2000 | 33,52 | 60x8x2300 | 9,38 |